So sorry for the delay in the result but yesterday I attended a memorial service for a very special mother/grandmother. Although there were tears, her lifetime of following Christ meant that the service was more a celebration of her life and legacy left for others. Three of her grandchildren composed, played and sang a wonderful song about her that she wanted them to play for everyone. It was perfect.
I will miss her and her offers of a cup of tea with a freshly baked jam drop. But I rejoice in the fact that she is probably right now enjoying the same with her late husband around a heavenly kitchen table.
Thrifted Thursday
I just happened to be passing by The Salvos (Salvation Army) Op-shop today whilst I was out and about. I came across the following items to purchase.
Heavy natural linen offcut from the bottom of 2 curtains - 50c
1m of Hello Kitty cotton print - $1.50
1m of Hawaiian print - $1.50
china teacup made in Kent, England - 50c
I am linking up with...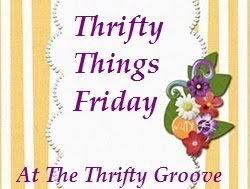 Charm Pack and Needle Pack Winner
Thank you to the many many folks to who entered the '50 Followers Give-Away'. I tried to make a comment on every one but somehow the last half got lost...so I hope to get back to you again. There were 162 entries and entry #149 was picked by the Random Number Generator.
That comment belonged to Pippa Parsons of Pippa's Patch who, ironically, lives in France! So one pack of 'Petit Odile' by French General and a packet of Superior needles will be
v
ol
par avion
de l'Australie à la France.