Well Winter has well and truly hit the northern rivers of NSW. The last 3 weeks have been rainy and horrible but on Monday and Tuesday we've had sunshine and freezing cold westerly winds. It's been snowing in some parts of the central tablelands and Snowy Mountains and you can sense that 'nip' in the wind chill. And I have had a sore throat for 5 days!
Driving, to pick up the kids at 3pm these past two days,
I wondered when it had changed. Suddenly the sun is a winter sun.
I realised that the light was different. The warm yellow light of autumn has been replaced by the cool white light of winter. The shadows were long and the sun was hanging very low in the northern sky making it seem much later in the day than school home time. So behind all those rainclouds these past few weeks, the season had turned.
Quick Charm Stars
Later this month my online quilt group - Quilt Club Australia - has a 'Secret Handmade Swap' deadline. I have been so busy with other projects that I didn't get around to it until this past weekend. Now it is a secret project to a secret partner so I can't show more than a snippet for fear of disclosing too much. But I had a pack of charm squares and an idea of using a pattern by Elizabeth Hartman. As it turns out, I needed more material and so I put in a long phone call to my lovely friend Kristy from
Quiet Play
and she found me a great one by Stefanie Roman in the Moda Bake Shop called
'Charming Stars'.
I was so grateful because these blocks required minimal cutting and sewing to achieve a decent 9 patchy star.
I have also made the projects double sided using up some leftover charms and natural French General. I have outlined the stars and also shadowed some them with straight line quilting. The binding is a bit Dr Seuss-like. I plan to do some hand quilting on it to finish off and add that extra 'zing' plus it helps me pass the time waiting around at D's
Social Skills
class every Wednesday afternoon.
Kristy was featured on the 'Get Acquainted Blog Hop' yesterday and her post is well worth the read for a giggle, a get-to-know-her and a link to a great paper piecing tutorial of hers called 'Red Herring'. I plan to use it to start my paper-piecing foray in July.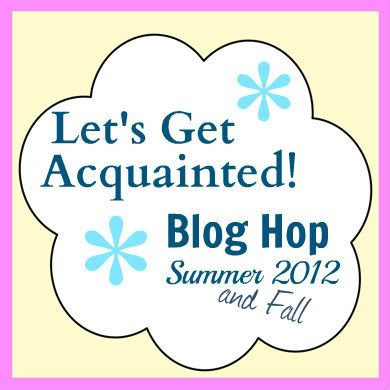 Work In Progress - WiP
T
his week's stats:
Completed projects
- 2 -
'HR Far Far Away 2&3 Fussy Fairytales'
. See Friday's post.
- Secret Handmade Swap project.To be revealed fully in July.
Currently in progress
- Zakka Zip Organiser
- Katie Jump Kites - top finished
On Hold projects
1
- Zakka Messenger Bag - lining and outer sewn. Waiting on strap hardware.
So how have you progressed this week? Simone from Local Honey Crafts has a fabulous competition to get your UFOs done this month. Please drop by and read up and see the lovely fabric prizes.
I am linking up with...